Obituary for Josephine Elizabeth Boucher
Josephine Elizabeth Boucher
February 15, 1948-April 5, 2018
Favorite Scripture: Proverbs 10:22- "It is the blessing of Jehovah that makes us rich, And He adds no pain with it."

The early years

Josephine Elizabeth Boucher was born on February 15th, 1948, to Thomas Boucher, a firefighter, and Madeline Boucher, an operatic singer and shopkeeper in Bridgeport, Connecticut. She was the youngest of her siblings, Tommy, Sissy (Madeline) and Susan who gave her the nickname, "Dodie" after a popular singer of the time.

She lived in Bridgeport and Newtown, Connecticut throughout her childhood. She loved her family dearly, including her brothers-in-law, Buddy and Ricky, sister-in-law Susie and many nephews and nieces. She also loved her German and Irish heritage. Dodie was always full of life and had a good sense of humor, even during her most challenging times. Her high school year book quote under her picture was, "life is a jest, and all things show it."

A pivotal time

At 15 years old she met 'Vinnie' Cuminotto. They dated throughout high school and were two wild and crazy kids. One day Vinnie called her and told her he wanted to show her some things he had recently learned when studying the Bible with Jehovah's Witnesses. Since Dodie attended Catholic school throughout her life, she felt like she'd show him a thing or two! But after that discussion she was intrigued with what she had read directly from the Bible and began a Bible study of her own. She was convinced that she had found the truth about Jehovah God, the priceless ransom of his son, Jesus Christ, our hope for the future and how to live life to the fullest now. It changed the course of her life. She was baptized as one of Jehovah's Witnesses on March 1, 1969.

Marriage and motherhood

Vince and Dodie were married on November 17, 1967 at the Trumbull, CT Kingdom Hall of Jehovah's Witnesses. Shortly thereafter, they moved to Rhode Island to serve in a congregation with a need for more kingdom publishers.

Dodie also always wanted a family. So, on September 11, 1970, she was blessed with her first child, Christian. Five and a half years later, Eden was born. Dodie is remembered as being a "Supermom", not only to Eden and Christian but to so many others who valued her caring, and reassuring personality. She listened, gave truly solid advice, and brought humor when needed. She sewed and gardened, making any of the homes where she lived warmly inviting and beautiful. In addition she cooked and baked endlessly filling our stomachs along with our hearts.

Adding to her loving role as wife and mother, she helped Vince with secretarial work in his business endeavors. When Christian and Eden were in school, she served as a full-time minister for many years, spending between 70 and 100 hours in Bible education work every month. During those years she studied the Bible with countless people, helping them to change their lives for the better and build a strong relationship with Jehovah. She has many spiritual children and grandchildren who remember her excellent teaching and love. She assisted at least seven individuals to the point of dedication and baptism. Even during her last few weeks, she expressed her scriptural hope and confidence with many doctors, nurses and friends that Jehovah was, "holding my right hand with his right hand" (Isaiah 41:10,13).

Later years

After moving with Vince and the children to Colorado and Florida for a brief time, Dodie settled in New York until her divorce in 1999. She has lived in Kentucky for the remainder of her life where she has been known as JoBeth.

During this time, dearly loved children were added to her family. In 2000, she gained a son-in-law, Jonny (Jonathan) Houghtaling. Oh, how she loved and laughed with him. In 2008 and 2012 she became Grandma Jo to Naomi and Asher, perhaps the greatest joys added to her life. And in 2016, she welcomed a beautiful daughter-in-law into her arms, Abigail Cuminotto. She often expressed her love and gratitude for all of her family. She said they were her biggest blessing and quoted 3 John 4, "No greater joy do I have than this: that I should hear that my children go on walking in the truth."

How we will remember her

JoBeth will be remembered for her spunk, love of life and infectious laugh. She was down-to-earth, approachable, and selfless for anyone in need. A true and loyal friend and sister; a wonderful mother and grandmother; most of all, a faithful and dedicated servant of Jehovah. We know JoBeth is safe in Jehovah's memory now and we await her awakening from "sleep."
To send flowers or a remembrance gift to the family of Josephine Elizabeth Boucher, please visit our Tribute Store.
Previous Events
Service
Kingdom Hall of Jehovah's Witnesses
400 Kingston Rd.
Lexington, KY 40505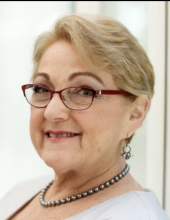 Thank you for sharing your
memory of Josephine
Provide comfort by sending fresh
flowers from our local florist.
No thanks, please don't show me this again.